& Signs
In addition to the furniture factory, we also boast an in-house sign department. Signage in the healthcare industry is vital. It helps nurses, doctors and other healthcare professionals navigate the facility quickly and effectively. Having ADA approved signage that is noticeable and easily read is crucial to patients and family alike, as they may have diminished sight or other disabilities; this concept is applicable across many industries.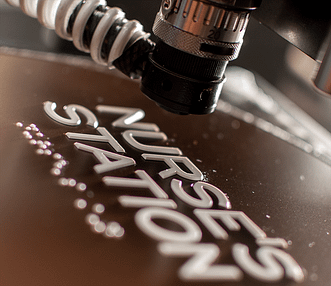 Equally important is a company's communication outside. Appropriate signage is crucial to effective branding, event advertisement and directing traffic. Our signs accomplish this while maintaining a pleasing and consistent aesthetic with the company's brand.
Exterior
The monument sign is often one of the first things that is seen outside of a building. This first impression is everything. While we don't currently offer full monument sign services, we will replace your aged panels with your existing artwork or a new design, created by our in-house graphic designer. We also offer a broad range of outdoor way-finding signs to help visitors navigate your campus.
Interior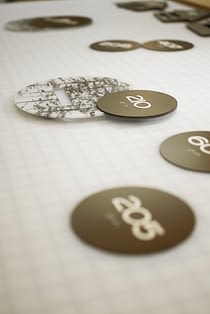 Coming inside your establishment, we also provide ADA (Americans with Disabilities Act) compliant way-finding, informational and directory signs. In addition to the required and regulated signage, we have also designed and executed many other unique and custom pieces; such as custom streetscapes like those found in modern long-term care facilities, including faux windows with illuminated scenes.
Wide-Format Printing
While the CNC routers may be the heart of the furniture production, our wide-format, eco-solvent Roland printer is certainly the heart of the sign shop! When paired up with our laminator, it allows us to print and cut graphics on a wide variety of materials rated for both interior and exterior use. We also use a wide-format plotter for cutting vinyl films, for application on various substrates.
Engraving
Per ADA regulations, nearly all interior signs are required to have braille as well as raised lettering that can be read tactilely. We employ our table-top rotary engraver to ensure that all signs meet the tactile and braille requirements set forth by the ADA.