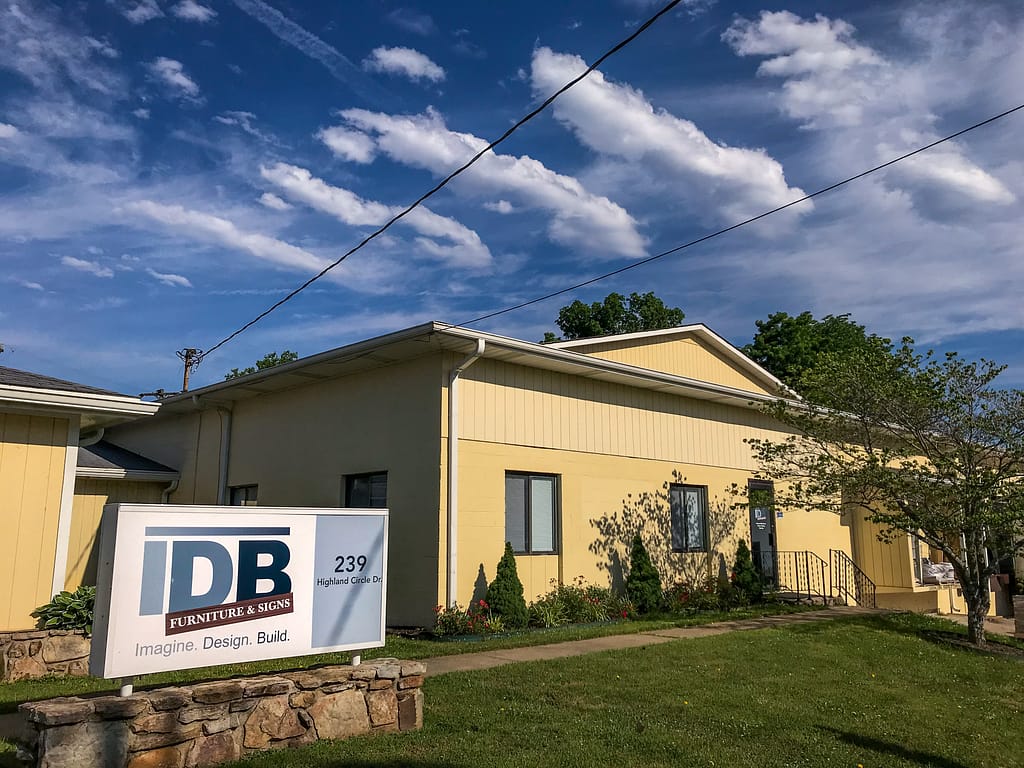 Our Story
IDB Furniture and Signs was born in 2008 with the intent of creating quality commercial casework, cabinetry, office furniture and signage to serve our parent company, Signature HealthCARE. Over the years we have gained first-hand knowledge of the specific needs and challenges that healthcare facilities face on a daily basis. Our mission was simple- to make sure that our furniture and signs helped to alleviate these challenges.
We started simply by making casework for our own resident rooms, but our product offerings have evolved over the years to include cabinetry, office furniture, exterior signs, interior ADA & way-finding signage, banners, and a variety of custom designs.
While our products are originally based in healthcare design, they are applicable to a variety of commercial industries.
We are located in Portland, TN, just 30 minutes north of Nashville. Our facility shares a campus with one of our parent company's long-term care facilities, as well as a private elementary and boarding school. The boarding school, Highland Academy, has played an integral part of IDB's development and growth over the years. We employ students to work part-time, both in our offices and on the factory floor. Our full-time staff provide mentorship and hands-on guidance for the students as they develop fundamental skills to carry with them to college or straight into the workforce.
Our Facility
All of our products are Imagined, Designed, and Built in our facility in Portland, TN. We use state-of-the-art machinery to ensure our products are consistently the best that they can be.

The heart of our facility may very well be our pair of Thermwood CNC routers. This is the start of the line- where sheets of wood, acrylic, and many other materials are cut out into different parts, which will later be assembled into the final product. By using CNC technology to cut the materials, we can guarantee the accuracy and consistency that is needed in order to provide the best quality and repeatability for our customers.
With our in-house thermofoil press, we are also able to produce a variety of products that require a 3D laminated surface. The thermofoil process offers the customer a completely sealed piece, which is impervious to moisture and easy to clean. Parts are then assembled and hardware is added, with quality checks being performed every step of the way. This process is the perfect solution for cabinet refacing projects, with a wide range of aesthetic possibilities.
Finished products are cleaned and inspected for quality and consistency one last time before being safely wrapped up for shipping. While we can't control the ever-changing transit industry, we strive to do our best to ensure that your order arrives unscathed. All of our units ship fully assembled, and are packaged to minimize the potential for damage during transit, from our dock to your floor.