We are thrilled to announce that IDB was recently granted our first patent! Our Linen Bench, which was awarded the patent, is a prime example of how IDB spins unique problems into a well crafted, one-of-a-kind solution that redefines the standard.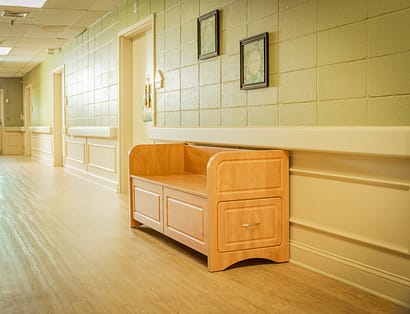 Today, we will go over some of the features of the Linen Bench and why it's significant enough to merit a patent.
---
The journey to the Linen Bench began when the National Fire Protection Agency (NFPA) code was recently changed, allowing for the use of furnishings and stationary storage units in the hallways of healthcare facilities.
The NFPA sets recommended guidelines for local governments to adopt and enforce.
IDB took that change in regulation combined with the overwhelming need for functional hallway storage and developed an aesthetically pleasing solution.
We know from experience that many patients have limited mobility and while many residents are able to walk on their own or with assistance, they often tire quickly and need a place to rest.
Our now-patented linen bench gives patients, family members, and guests a place to rest while also providing nursing and housekeeping staff with additional storage.
Having linen access much closer to patient rooms also improves caregiver efficiency by reducing the amount of time it takes to replace patient bedding in the event of an accident or an emergency.
IDB's handsome linen bench replaces the traditional and often institutional hallway linen carts, turning it into something that is both functional and pleasing to the overall space plan.
Since it is made from commercial, heavy-duty materials, including 1.5" thick panels, the bench withstands the rigors of the busy hallways of healthcare environments. Available with optional combination or keyed locks, the end-oriented drawers eliminate the need for healthcare staff to disrupt a patient or visitor who is utilizing the seating function of the unit in order to access the storage compartments.
In addition, the exposed surfaces and joints of the linen bench have been sealed for ease of cleaning in the event of any accidental exposure to fluids.
We are confident that you and your patrons will be very pleased with the versatility and aesthetic improvement that this piece can afford your facility.
Hop on over to our Contact page to request more information and be the first facility in town with this revolutionary new unit!
Thanks for stopping by,

–IDB Furniture & Signs