Information and communication are without a doubt two of the many keys to success. These 2 key elements are detrimental to the success of your new graphics or signage projects. You have a message to convey to your clients and to the world; having proper signage and a great design ensures that your message is effectively communicated to your intended audience.
The same reigns true for the design and development phase of signage and graphics. Having key information and photographs can make this part of the process much more fun, so we can get right on our way to crafting your new sign or signs. The type of information we will need from you will depend upon the project. In this post, we will go through some of our most common types of signs and talk about what information is needed and what type of photographs are most helpful with each type.
Getting Started
Before we explore the different types of signs, let's go through the process of initiating your order. Once you have gotten in contact with us, either through our Contact page, by phone, or through social media, our project manager gathers all of that tasty information and any photographs or artwork and passes it along to our signage design team. They will develop the best solutions for your project, usually with 1-3 initial options. Next, we draw up renderings so that we share what we're envisioning for your project. As you can tell, it is important to determine your needs and any current issues you are looking to overcome up-front so that we can craft the best solution possible.
Sign Types
In the sections below, we discuss what particular information and photographs are most helpful for each of our most common sign types.
Interior & ADA Signage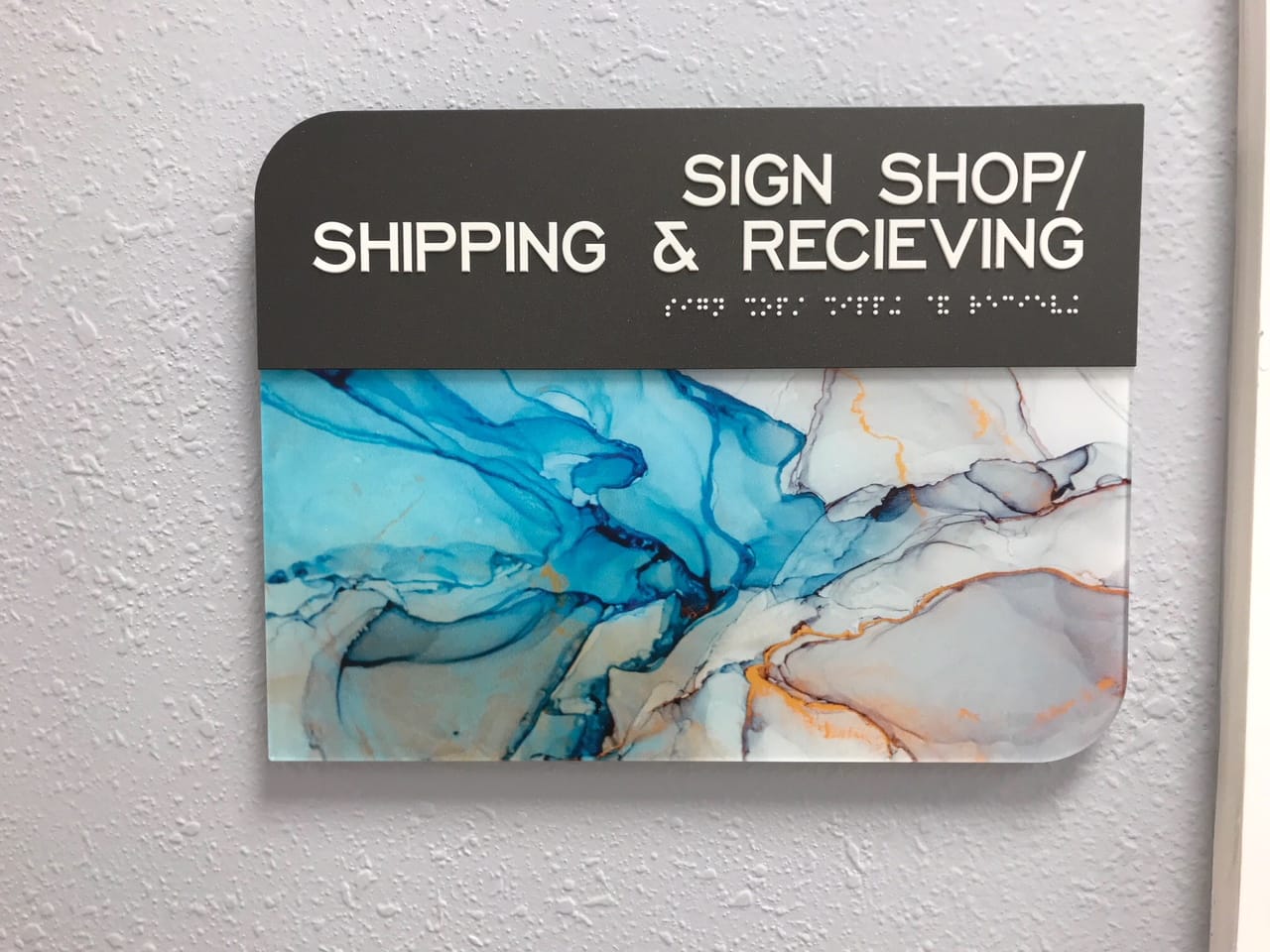 For interior and ADA signage, we will provide you with a form to fill out. This form collects all the pertinent information for your order such as sign types, quantities and the text/pictograms needing for each. Additionally, a few photographs of the areas the signs will be installed are always helpful in choosing the best artwork and colors for your space.
Exterior – Monument, Campus, Parking, & Directional
When dealing with exterior signage projects such as monuments, campus, directional and parking signage, there are many variables, so we prefer as much information as you can give us! We love plenty of photographs of the area from the various locations the sign will be viewed, any current or existing signage you would like to replace or improve upon, and any mounting surfaces or locations of particular interest.
In addition to photographs, having dimensions and information regarding the construction of any buildings or relevant structures (existing brick/stone monument bases, for example) on hand will be extremely helpful! It always helps to take as many dimensional measurements as possible. Often times we may need both interior and outer measurements, heights from signs to the ground, thicknesses and a number of other dimensions that are commonly overlooked, but necessary to provide an accurate quote.
Banners
For exterior banners, things are a bit simpler. While we can certainly get by with either customer-supplied or in-house generated artwork, having more information or a photo of the location where the banner will be located can assist us in making sure your message is properly conveyed and that the banner is made to ensure proper mounting at your location.
Vinyl Graphics – Window, Wall, Vehicle, etc.
Window, wall, vehicle graphics all require accurate measurements and plenty of straight-on, level photographs of each surface and the general area. If you need assistance in obtaining measurements, please give us a call or get in touch and we will do our best to guide you in the right direction, however, we are not responsible for inaccurate measurements supplied to us by customers.
As you may have noticed, pictures and dimensions are the typical starting points for our signage process. Having in-focus, well-lit and plentiful photographs can save hours and sometimes days off of the initial design and planning process. This information and proper communication are both crucial in ensuring that we develop the best possible solution for your project's needs.
You've got all my information, now what?
After determining the scale and scope of your project, we will discuss and evaluate your artwork requirements. For most signage projects, a good rule of thumb is 'less is more' when it comes to artwork. While it may seem like a good idea to load every service or product your company offers onto your sign, along with multiple phone numbers, address, etc., the truth is that once a graphic begins to become too crowded with information, the human brain's ability to focus on and quickly process that information deteriorates. For that reason, most signage graphics are simpler, containing the company or organization's name, logo or relevant image, motto or by-line, website, and a phone number. That's all! There are exceptions, however, but in the majority of cases this is the recipe for a truly effective sign or advertising graphic.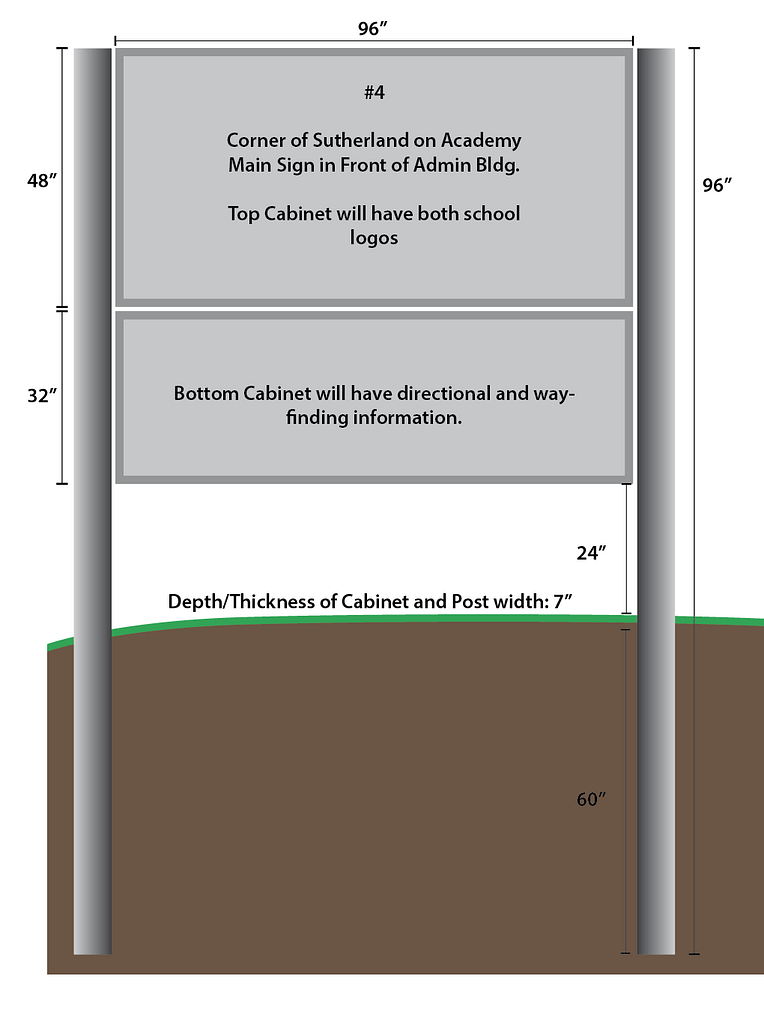 The rendering to the right shows the details and dimensions of an exterior sign. We typically produce these renderings once the physical details are determined to give clients an idea of the physical structure before moving onto developing artwork.
Once we have the concept laid out for your project and have received a deposit, we will then begin work on the artwork. We ask that you try to supply us the highest possible quality images and files for any company logos or other brand design elements. It is important to note that images saved off of a company website, email, or from Google images or similar will almost always be at a resolution of 72ppi, which in most cases is not sufficient for the wide-format printing used in signage.

Having high-resolution photos are nice, but we typically prefer logos and other brand artwork to be supplied to us in vector format, specifically .ai, .eps or .pdf. If you are unable to provide vector formats, we may have to apply an additional art fee in order to develop vector files from your low or high-resolution photos. If 'vector' and 'raster' sound like some foreign language to you, that's okay! We have an entire blog post, viewable here, that is dedicated to defining vector and raster graphics, and goes through how to use each appropriately.
Concepts and Renderings
Once we have all of your company graphics in place, we will usually develop 1-3 different rough concepts for your review. To do this, we will usually do some research into your company or brand, as well as ask some questions to get a feel of your company and what it is you are truly trying to achieve with the project. The better idea of who you are and what you're trying to say to the world, we can begin designing your graphics.
After these initial design renderings are submitted, you will have the opportunity for 1 design revision included with the initial art fee. This is where you can choose which design you prefer, as well as request any changes be made to that design. Once changes are made, the second draft will be submitted for your review.
At this point, hopefully, we have captured the aesthetic you're searching for. You will now have the option of approving the revised design, which will send it into the production stage. If the design still needs some tweaks to get where you want it, you may request additional art revisions with an additional fee paid in advance of any further revisions.
In the design world, there is a saying regarding the design process. 'Going from rough ideas in one's head to a satisfactory finished design is akin to a cab ride. It's much easier, faster, and more affordable if both parties know where we're going, otherwise we just ride around lost all day, running up the meter.' It is always best to have a clear idea of the project's needs and your brand and image in order to provide the best design possible.
Moving into Production
Now that your art is approved, the details of your project's construction are laid out, we are able to begin production on your order! Depending upon our current workload and the size and complexity of your order, the entire process from deposit to delivery usually takes between 4-6 weeks, with smaller signage projects sometimes being completed sooner.
Hopefully this helps to answer some questions and get you up to speed on the entire process! We know it can be daunting to begin any project, and we welcome any further questions or concerns you may have about the process or about our signage in general. If you haven't visited our website before, be sure to take a look around, catch up on our other blog posts, and follow us on social media. Thanks for stopping by!
– IDB Furniture & Signs